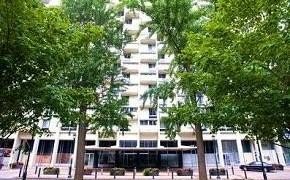 Welcome To Hopkinson House
We would like to welcome you to Hopkinson House and are delighted to have you as a member of our community. We hope the following general information will help as you relocate to your new home. Should you have any questions, please contact the Resident Services Desk.

Moving Procedures
New residents must contact the Resident Services Desk to reserve the service elevator in advance of their move date. A $275.00 non-refundable fee is to be paid with the Move-In Reservation Request. Please reserve the service elevator well in advance of your intended move date since only one move is accommodated per day.
Moves are only permitted Monday through Friday between the hours of 10:00 a.m. and 4:00 p.m. and on Saturday between 12:00 p.m. and 4:00 p.m. No moves are allowed on Sunday, legal or religious holidays.
All moves are done through the loading area in the garage and the service elevator. Please inform your moving company that trucks over 12 feet in height cannot fit into the garage. Trucks over that height are required to park to the south of the 6th Street garage entrance and all belongings will have to be hand-trucked using the garage ramp.
Note the dimensions of the service elevator: width: 5'9″, height: 8'4″, depth: 5′.
If you need to dispose of cartons and boxes please contact the Resident Services Desk to arrange for their removal. These items may not be left in the hallway, trash room, or service elevator lobby area.
Rules and Regulations
The residents living in a condominium building are dependent on one another for the quiet enjoyment of their homes and for the smooth and harmonious functioning of the community. It is very important that you familiarize yourself with the Condominium Documents, Rules and Regulations, and the general policies of Hopkinson House. You should have received copies of these documents before closing on your unit or from your landlord.
Renovations
Procedures, forms, fees, and policies relating to apartment renovations appear in the Renovation Requirements packet (updated August 2020).
Utilities, Cable, Internet, and Telephone Service
The building provides heat, air conditioning, water, gas, and electricity.
Internet and cable television are also included through a bulk account with Comcast and are part of the monthly association fee. As of July 1, 2021, this service includes HD, Basic and Expanded Cable, HBO, internet, and modem rental. Also included are the remote control device and digital converter box.
Additional channels and levels of cable service are available directly from Comcast.
Telephone services are also available from Comcast or through Verizon Communications.
No Smoking Rule
Smoking is prohibited in all common areas, balconies, and units in Hopkinson House. The no-smoking rule applies to all residents, guests, employees, and service providers. Limited exceptions apply to smoking units occupied by owners who were resident before the rule took effect in September 2012. No Smoking Resolution
Insurance
The Association has a Master Insurance Policy through Lindsay Insurance Group, Inc. This insurance policy provides coverage for the building and common elements. However, since the building coverage is limited under the Association Master Insurance Policy and Unit Owners Policy, each unit owner should have a Unit Owners (HO-6) insurance policy to cover their unit and their liability. Please refer to the condominium declaration for a description of the individual unit.
Trash Disposal
On each floor next to the service elevator is a room for trash and recycling disposal. The chute for regular, bagged trash runs from the top floor to the garage. It is important that residents do not dispose of any materials that can cause a blockage in the trash chute. Please place recyclables in the appropriate containers.
Hallways
All of the hallways, stairwells, lobby, garage and elevators are common property. No personal belongings should be left, stored or displayed in any of these areas. No shoes, umbrellas, trash, bicycles, strollers or other personal property is to be left in the hallways. Nothing should ever be attached to any part of the hallway walls. There are closets located on each floor to house cable TV and maintenance equipment. Residents are not permitted to use the closets for storage or for any other reason.
Balconies
Balconies should be cleaned only with a vacuum or damp mop or broom and cleaned in such a manner as to prevent water or debris falling onto lower levels. No trash or debris may be shaken or thrown from any balcony.
Return to top
Grills
The use of any type of grill anywhere on the property, including the balconies is strictly prohibited.
Noise
Living in a condominium is not the same as living in a single-family home. The close proximity of your neighbors requires a high level of consideration so that we all can enjoy our homes peacefully. Please be mindful of activities that will transmit sounds through the floors and keep your television and stereo at a level which will not travel through walls and floors. Please keep voices at a reasonable level, especially in the hallways.
Pets
Pets that may be kept in an apartment, provided they are preregistered with the Management Office, are cats (maximum of one); small domestic animals excluding dogs; fish, turtles, and small birds; and Seeing Eye or Hearing dogs. Guest of owners and/or residents are not permitted to bring pets into the building. Pets in the halls or common areas must be carried in appropriate containers.
Rooftop Pool
The 2023 Pool Season extended from Memorial Day weekend until Sunday, September 24.
The rules and regulations governing the operation of the swimming pool – including behavior and fees – are promulgated each year by Council and available at the Resident Services Desk. Seasonal membership is open to resident owners and tenants. Residents may purchase a limited number of day and guest passes. Seasonal Members, Day Pass purchasers, and Guests are required to sign a waiver acknowledging that they are using the pool area at their own risk.
2023 Pool Rules and Regulations, Pool Membership Application, and Pool Waiver
Maintenance
Residents are responsible for the care and maintenance of the interior of their unit. The Association will address any problems with the common elements. Association Maintenance Policy
Fire Evacuation Procedures and Shelter in Place
For fire evacuation procedures prescribed by the City of Philadelphia Fire Department and fire procedures for residents needing assistance: Fire Evacuation Procedures
Tips: If the fire alarm sounds, leave at once. Close doors behind you. Proceed into the "Fire Exit" and remain on the landing or the steps until you are given instructions by the Fire Department or the Building Fire Marshal. DO NOT USE ELEVATORS. BE SURE THAT THE FIRE EXIT DOORS ARE CLOSED AT ALL TIMES SO THAT SMOKE CANNOT ENTER THE STAIRWAY.
In the event of an emergency declared by the City or state: Red Cross Shelter in Place Guidelines
Parking
Please ensure that you and your visitors are always parked appropriately. 20-minute parking is available on the street directly in front of the building, and 10-minute parking is allowed in the front driveway for pick-up and drop-off. Do not park in any area not designated for parking. If necessary, any inappropriately parked vehicle may be towed at the owners' expense. Improperly parked cars can block the access of emergency vehicles and disrupt the flow of traffic in the front driveway. Parking Garage Info
Bicycle Storage
Bike Room Storage is available for the year 2021 for an annual fee of $40.00 per bike, limited to two bikes per unit and subject to capacity. The Bike Room key deposit is $25.00 per key. If you wish to store or continue to store your bike in the Bike Room, please see the Management Office for the 2021 Bicycle Policy and Registration Agreement.
Apartment Storage of your bike within your residential unit is permitted, but you may be required to use the freight elevator when moving your bike in and out of your unit.
The Hopkinson House Owners' Association (HHOA)
The Hopkinson House Owners Association is a condominium/homeowner association and provides owners with many kinds of benefits that private homeowners don't have available to them. Just a few of these benefits are:
The ability to directly elect neighbors (or to run yourself) to help in governing the association, giving you a voice in how decisions are made.
The sharing of costs for utilities and maintaining the building and common areas.
The maintaining of community standards which help protect the value of your home.
Most of what you will need to know about the Association is contained in the condominium documents you were given prior to your closing or provided to you by your landlord.
Management
Taylor Management Company is the management company for Hopkinson House. Taylor Management works closely with the General Manager to oversee the day-to-day operations and management of Hopkinson House.
Annual Association and Annual Budget Meetings
The Annual Association Meeting takes place every April and the Annual Budget Meeting is held every December. All owners are urged to attend both meetings as these are where many issues important to the running of Hopkinson House are presented and discussed. Owners will receive written notice of the dates and times of both meetings.
Association Council
We are proud of our building and we solicit your help and expertise in making it an even better place to live. Please consider volunteering your talents to help the Council in managing the activities of the Association.
The Association Council welcomes you to our building and our community. We hope that you will be happy here and will work with us in continuing to improve our living environment. In choosing to live at Hopkinson House, you have selected one of the finest condominiums in the City of Philadelphia.
Best wishes to you in your new home.
Welcome aboard!
Hopkinson House Owners' Association
Return to top