EXERCISE IN THE SOLARIUM!
Tuesdays and Thursdays at 11:15 a.m.
Norman Yanovitz leads this long-standing group workout.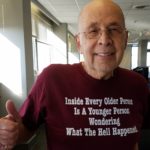 WASHINGTON SQUARE CITIZENS' LEAGUE AT HOPKINSON HOUSE
Washington Square Citizens' League is a nonpartisan, not-for-profit educational organization dedicated to motivating Hopkinson House residents to become engaged in the political and social processes of the day. Founded in 1996, Washington Square Citizens' League offers an array of activities, including informative programs and regular meetings organized around interest groups. Membership Form 2021-2022. Annual dues are waived for the July 1, 2021 – June 30, 2022 membership year. Please contact for more information.
WSCL Discussion Groups
Topical discussion sessions take place on selected Monday evenings at 7:30 p.m. in the Hopkinson House Solarium. Knowledgeable Hopkinson House residents lead the discussions. Handouts are available at the Resident Services Desk about a week in advance.
Remember to wear a mask, as required for all interior common areas in Hopkinson House. Unvaccinated persons should not attend.
New date: Monday, February 7, 2022, Where does a college education fit into today's world? The panel members all have had distinguished careers with colleges, and some of the subjects to be discussed include the following:
Faith Abbey—the effect of working on the "college experience
Bill Black—status and changes in admissions and financial aid
Lynn Miller— the benefits of a liberal arts education, generally and beyond
Coordinator: Curt Johnson
WSCL Book Groups
Discussions take place on selected Sundays, 4:00 p.m., in the solarium.
Postponed until February: Eleanor by David Michaelis (originally scheduled for Jan. 16)
January 30, The Likeness by Tana French – This is the new Crime Novels discussion group.
WSCL Evening Speaker Series
Monthly evening programs in the Hopkinson House Solarium feature local movers and shakers, who have included Governor Ed Rendell, Philadelphia Inquirer columnists, government officials, and political candidates. Events offer the opportunity to meet-and-greet over refreshments before the program and Q&As. All Hopkinson House residents and their guests are welcome. Watch for notices of future programs.
WSCL Reel Discussion
Film-goers meet monthly to discuss a critically acclaimed film with social and/or political themes of interest to members. The Sunday sessions begin at 4:00 p.m. in the Hopkinson House upper Solarium. Group members receive a ballot on the Tuesday before the meeting, and the group's selected film is announced by Thursday morning. Next meeting TBA.
Additional activities TBA!