Our management team consists of a General Manager and an Office Manager who are knowledgeable about the property in all its varied aspects. Together they conduct the routine business of the Association and Council and are responsible for the delivery of management services to the Association.
Erica Alles, General Manager
Erica Alles
Tel: 215 923-1776
Fax: 215 829-1510

The General Manager is employed by CAMCO. Erica Alles is on-site Monday through Friday from 9:00 a.m. – 5:00 p.m., and manages all Association operations for the property.
At Hopkinson House, the General Manager is our on-site representative, and in that role acts as our liaison for CAMCO as well as serving as the primary point of contact for Council, staff and residents. Please feel free to contact General Manager Erica Alles if you have any questions, problems, comments or suggestions about the management of our building.
The General Manager's duties include:
The General Manager sets the standards for hire, supervision and retention of employees of the Association, subject to the Association Council.
Establishes and operates a work order system to receive and record service requests.
Supervises and issues regular work schedules of the Association employees.
Inspects the physical plant of the property and works with the Building Chief Engineer to establish a preventative maintenance program.
Promptly notifies the Association Council of official communications affecting the property from any Federal, State or Municipal authority.
Provides the Association with a monthly written report of management and operational activities.
Handles homeowner service requests promptly.
Prepares recommendations and schedules for the establishment of, and/or revisions to the Association's capital reserves.
Administers the Association's Rules and Regulations and enforcement policies.
Administers the Association's policies applicable to unit owners leasing their units.
Administers the Association's policies and duties and comply with all legal requirements, including the preparation and delivery of all required resale certificates upon resale of units.
Works with the Association's attorney in collecting delinquent condominium fees.
Assists the Association's CPA in the preparation of the annual audit.
Insurance Claim Administration.
Coordinates capital improvement projects.
Office Manager
Maintain contracts, Council minutes, Resolution book and resident files.
Prepare and assemble support documentation for the yearly budget and attendant announcements.
Distribute monthly Association Update by mail and e-mail.
Prepare and distribute all materials concerning:

Annual Budget Meeting, annual election data to all owners,
Announcements to residents concerning preventative maintenance schedules,
Announcements to residents concerning building projects.

Prepares re-sale packages for sold units.
Processes leases for rental units.
Maintains records of sales, rentals, condominium fees, etc.
Updates Owner/Resident directory.
Management at Hopkinson House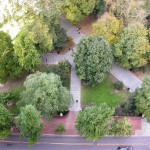 In a condominium building the size of Hopkinson House, with over 500 units and more than 800 residents, effective management is of the utmost importance. Since 2006, Hopkinson House has employed CAMCO as our management company to handle all of our day-to-day operations. CAMCO was chosen for this important role because of their expertise, knowledge, and experience in the field of condominium management.
Whereas Council is the policy making body of the Owners' Association, CAMCO acts as advisers to the Council when their expertise and experience adds value to this process. As our management company, CAMCO is responsible for carrying out the directives of the Council and, in this way, the Council delegates to them the day-to-day operations of the Association. The purpose of this arrangement is to assist the Council in facilitating a harmonious living environment while maintaining the integrity of our community.
CAMCO's General Manager for Hopkinson House is the liaison between Hopkinson House and CAMCO.
Our General Manager establishes regular and on-going communications with members of Council, committee chairs, residents, contractors, and other service professionals. The General Manager also maintains a complete system of files for important and operational documents and information. These files include the following:
Individual Unit Files
Association Documents
Association Rules and Regulations
Association Policies
Association Operating Procedures
Contracts
Insurance Policies
Financial Statements
Council/Board Minutes
Monthly Management Reports
On behalf of the Board, CAMCO and the General Manager supervise the Annual Meeting. They also organize the Annual Budget Meeting and present the annual budget to the Association. Some aspects of this task include:
Preparation of individual proxy/ballots.
Candidate solicitation and publication of candidate qualifications.
Election publicity.
Collection of proxy/ballots and tabulation.
CAMCO: Hopkinson House Management
Marcus Mayo, CAMCO Board Chairman
511 West Chester Pike
Havertown, PA 19083
Tel: 610 446-9292
Fax: 610 446-0125
http://camcomgmt.com
CAMCO has been in business for 37 years and the managing agent for Hopkinson House since September, 2005. CAMCO is the largest independently owned condominium management company in the Greater Philadelphia region. Since 1975, CAMCO Management Company has provided managers, accountants and support staff to the region's condominiums and homeowner association communities.
CAMCO serves over 18,000 homeowners in more than 80 communities in Bucks, Chester, Delaware, Montgomery and Philadelphia counties. CAMCO manages more Philadelphia high end high-rise condominiums than all other management companies combined.