Hopkinson House Amenities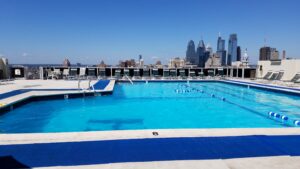 Hopkinson House offers a wide range of modern amenities and conveniences to its residents while also being located within America's most historic square mile.
Because of its ideal location, the building provides panoramic city skyline vistas or tree-top views overlooking Washington Square and the streets of Society Hill.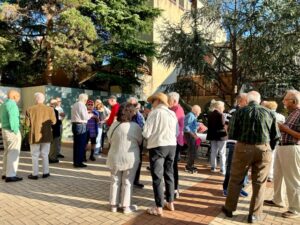 Some of the amenities include 24-hour doorman service, indoor secure parking, a rooftop (seasonal) pool, and a spacious up-to-date laundry room.
The building also offers a variety of in-house activities including exercise classes, book and film clubs, political discussion groups, a speakers' series, seasonal holiday parties, and courtyard concerts. A spacious rooftop solarium may be rented to accommodate parties or other events.
Hopkinson House is located in an area that has easy access to public transportation, a wide variety of retail options, coffee shops, art galleries, theaters, museums and concert venues. Steps away are food markets, restaurants, liquor stores, pharmacies, hospitals, medical offices, and specialty shops.

Helpful Telephone Numbers
Resident Services Desk 215 923-1776
Lobby Desk/Doorman/Cab Service 215 925-2680
Hopkinson House Garage 215 574-8321
Market at Hopkinson House 215 627-5381
M's On The Square Salon 215 922-9768
Washington Square Dental Group 215 627-0777
Washington Square Pharmacy 215 925-0300
Keller Williams Real Estate 215 600-0123
Nick Meli Jr. Construction 215 342-9961
More information about the businesses located at Hopkinson House, including their regular hours of operation, appear below.

Resident Lobby Services
Front Desk Services – 24-hour service
Screens and announces all visitors;
Checks all resident entry permits;
Dispenses keys, as appropriate;
Documents on Incident Report Forms any pertinent or emergency situation;
Records all work order requests;
Handles extermination requests;
Dispenses and obtains signatures for packages, special mail, carts, keys, flowers, etc.;
Schedules, confirms and collects monies for all moves-in/out;
Maintains reservation book; processes contracts and deposits for Solarium scheduling;
Ensures all building and individual owner contractors are registered, issued badges, and have filed all appropriate forms before beginning work.
Knows all emergency, building, fire and safety procedures, including public address system;
Responds and handles fire emergency alarms.
Doorman Services – 7 a.m. to 11 p.m.
Greets and opens the door for residents and visitors;
Assists residents and visitors in and out of building with packages, luggage, taxis, etc.;
Screens persons entering building to determine suitability and observes pedestrians in immediate area of the building in order to report any suspicious activities that may occur;
Calls and arranges for emergency vehicles when appropriate and prioritizes duties in an emergency situation.
Concierge Services
The Front Desk will sign for all packages and deliveries. Please make arrangements to pick up your USPS, UPS, FedEx, overnight packages and all other deliveries within 24 hours of their arrival. Large packages will be taken up to your unit by a staff member if they are not picked up within 8 hours. We are unable to hold packages for extended lengths of time. Please make arrangements to pick up your deliveries promptly. HHOA is not responsible for loss or damage to packages delivered to the building.
The front-desk staff do not accept deliveries of dry cleaning, furs or any hanging clothing. Please make arrangements to have these items delivered directly to your unit when you are at home. Staff members will not accompany them to your unit.
The front-desk staff is prohibited from holding cash for residents. Payment arrangements for housekeepers, contractors, vendors, etc. must be made by the residents directly with their service people. Hopkinson House will not be responsible for cash left at the front desk.
Hotel and grocery carts are available in the main and lower lobbies for residents' use and return.
Return to top

Hopkinson House Swimming Pool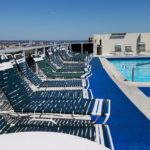 The 2023 Pool Season extended from Memorial Day weekend until Sunday, September 24.
The rules and regulations governing the operation of the swimming pool – including behavior and fees – are promulgated each year by Council and available at the Resident Services Desk. Seasonal membership is open to resident owners and tenants. Residents may purchase a limited number of day and guest passes. Seasonal Members, Day Pass purchasers, and Guests are required to sign a waiver acknowledging that they are using the pool area at their own risk.

Parking Garage
Hopkinson House Garage 215 574-8321
Hopkinson House contracted with Park America, Inc. to operate the Parking Garage as of June 1, 2020. Park America's phone number is 877 727-5648.
Monthly Parking
Monthly parking is available to Hopkinson House residents. The resident monthly parking fee for all resident valet parkers as of August 1, 2023, is $225; for residents who park their own vehicles, $325 monthly. Please contact the Garage Manager to arrange for monthly parking.
Guest Parking
Current posted rates are $5.00 for 0 to 30 minutes, $12.00 for 31 minutes to 60 minutes, $17 for 61 minutes to 10 hours, and $26 for 10 hours to 24 hours. The SUV surcharge is $8.00.
Guest Parking Vouchers (updated August 2023)
Guest parking passes available for residents to purchase are $12.00 for a 10-hour pass and $18.00 for a 24-hour pass.
The tickets may not be used for multiple consecutive 24 hour periods. (For example, one could not park for two consecutive days and then hand in two tickets to cover the fee.)
Purchases are limited to three (3) tickets of each type (6 total) each month.
Guest Parking may only be bought by Residents of Hopkinson House.
Guests utilizing Guest Parking Tickets will still be subject to current garage regulations and /or space.
Tickets can be purchased in the garage from either Jay or Paul at any of the following times: Monday 7:00 a.m. – 11:00 pm; Tuesday 7:00 a.m. –3:00 p.m.; Wednesday 7:00 a.m. – 7:00 p.m.; Thursday 7:00 a.m. – 3:00 p.m.; Friday 7:00 a.m. – 7:00 p.m.; Saturday 10:00 a.m. – 6:00 p.m.; and Sunday 8:00 a.m. – 8:00 p.m.
Cars entering the garage before 5:00 p.m. or leaving after 6:00 a.m. will be charged the posted rate for the time difference.
Bicycle Storage
Bike Room Storage is available for the year 2021 for an annual fee of $40.00 per bike, limited to two bikes per unit and subject to capacity. The Bike Room key deposit is $25.00 per key. If you wish to store or continue to store your bike in the Bike Room, please see the Management Office for the 2021 Bicycle Policy and Registration Agreement.
Apartment Storage of your bike within your residential unit is permitted, but you may be required to use the freight elevator when moving your bike in and out of your unit.
Laundry Room
Although many units have their own washers and dryers, the building offers a recently renovated laundry facility on the Lower Level that is open 24-hours, 7 days a week.
There are 16 standard size Speed Queen washers — 8 front-loading and 8 top-loading — and 2 double-load washers. For drying, there are 16 standard and 4 commercial size machines available. The manufacturer of front-loading washers recommend that you use 1/8 of a cup of High Efficiency (HE) liquid detergent in the washers. If you choose to use the vending machine boxes of powdered detergent available in the laundry room, use no more than 1/2 a box per load and add fabric softener.
For your convenience, there are large folding tables, rolling chrome laundry baskets, a detergent vending machine, magazine racks, a community bulletin board and ample seating.
For safety and efficiency, all machines are activated by smart cards (added-value cards). Two card dispensers are conveniently provided by the Coinmach Company (www.coinmach.com).
The well-lit room has 24-hour camera surveillance for security and free Wi-Fi.

Cable TV and Internet Service
Hopkinson House contracts with Comcast to provide internet and digital television service to the building. These amenities are included through a bulk account with Comcast and is part of the monthly association fee. As of July 1, 2021, service includes HD, Basic and Expanded Cable, HBO, internet, and modem rental. Also included are the remote control device and digital converter box.
Additional channels and levels of cable service are available directly from Comcast.
Solarium
The Solarium is an unrivaled bonus above the 31st floor. This large, bright, comfortable bi-level space is used for Hopkinson House Owners' Association meetings, Washington Square Citizens' League programs, and other permitted activities. With its functioning kitchen and sun deck, the Solarium may be rented by Hopkinson House residents for private parties, with a splendid view of the Philadelphia skyline. Press the elevator button for "R" to reach the roof level. Application forms are available from the Residents Services Desk.
Library
At the east end of the Hopkinson House Solarium is the Library, serving as a meeting room, reading room, conference room, and quiet room. The room's shelves are lined with books donated by Hopkinson House residents. There is also an outlet available for laptop computers.
The bookshelves hold art, history, mystery, philosophy, theology, sociology, politics, business, economics, biography, poetry, and medicine. You'll find the "great books," the classics and pot-boilers, in paperback and hardcover.
There is no charge-out system or inventory catalog. There is no time-limit on borrowed books. A long-time resident currently serves as a volunteer librarian.
The room is open daily from 9 a.m. to 10 p.m.
Voters' Election Day Polling Site
Hopkinson House is the designated polling place for Philadelphia's City Council District 1, 5th Ward, 3rd Division.
Return to top