WASHINGTON SQUARE CITIZENS' LEAGUE of Hopkinson House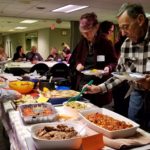 Washington Square Citizens' League is a nonpartisan, not-for-profit educational organization dedicated to motivating Hopkinson House residents to become engaged in the political and social processes of the day. Founded in 1996, Washington Square Citizens' League offers an array of activities, including informative programs and regular meetings organized around interest groups. Annual dues for membership are $10 per person or $20 per couple. The membership year is July 1 – June 30. WSCL Membership Form. Please contact for more information.
Voter Registration Help Desk
WSCL volunteers offer assistance and forms in the Main Lobby on the following days:
Thursday, September 19, 5:00 – 7:00 p.m.
Saturday, September 21, 11:00 a.m. – 1:00 p.m.
WSCL Evening Speaker Series
Monthly evening programs in the Hopkinson House Solarium feature local movers and shakers, who have included Governor Ed Rendell, Philadelphia Inquirer columnists, government officials, and political candidates. Events offer the opportunity to meet-and-greet over refreshments before the program and Q&As. All Hopkinson House residents and their guests are welcome.
Tuesday, October 1, 7:30 p.m. Trudy Rubin, Worldview Columnist, Philadelphia Inquirer, Trump Foreign Policy: The Biggest Risks Ahead. Refreshments, 7:00 p.m. All Hopkinson House residents and neighbors are welcome.
WSCL Discussion Groups
Topical discussion sessions take place on selected Monday afternoons and evenings in the Hopkinson House Solarium. Knowledgeable Hopkinson House residents lead the discussions and provide printed reading material. Please pick up the handout at the front desk a week in advance. Materials will no longer be delivered to individual apartments.
Monday, September 16, 2:30 p.m., Understanding Gun Control in the U.S. Discussion Leader, Martha Cornog
Monday, September 30, 7:30 p.m., Philadelphia and Pittsburgh – Comparing History and Cultures of PA's Two Largest Cities. Discussion Leader, Curt Johnson
Monday, October 21, 2:30 p.m., Benefits of a Bilingual Education. Discussion Leader, Vicky Kirkham
Monday, November 4, 2:30 p.m., How the Changes in Union Membership Affect Us All. Discussion Leader, Faith Abbey
Monday, November 18, 7:30 p.m., The Presidential Race, 2020. Discussion Leader, Lynn Miller
WSCL Reel Discussion
Film-goers meet monthly to discuss a critically acclaimed film with social and/or political themes of interest to members. The Sunday sessions begin at 4:00 p.m. in the Hopkinson House upper Solarium. Group members receive a ballot on the Tuesday before the meeting, and the group's selected film is announced by Thursday morning.
Sunday, September 29, 4:00 p.m.
Sunday, October 20, 4:00 p.m.
Sunday, November 10, 4:00 p.m.
WSCL Book Discussion
Sessions are held every four to eight weeks on Sundays at 4:00 p.m. for about an hour in Roy Bernat's Apt. #2803.
Sunday, October 6, 4:00 p.m. ANGLE OF REPOSE by Wallace Stegner
WSCL Theatergoers
Join the Theater Group's re-boot as we discuss plans for the year as well as plays recently seen.
Tuesday, September 24, 7:30 p.m.